#5 Schoolhouse History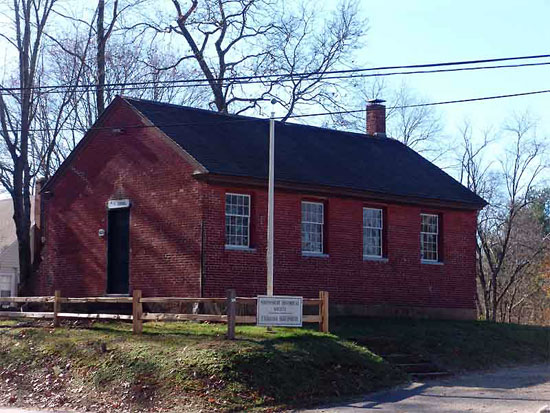 The small brick #5 School was built in 1828 on the corner of Old Mill Road and Main Street. This is Shrewsbury's oldest remaining school. Classes were held in this one room school until 1917 at which time the Artemus Ward School was built. Some years later the school was used as a private residence. The school is unique, as no major renovations or changes have been made to the original building. Old photos show that at one time there had been a wood shed next to the building. Over the years, the widening of Old Mill Road claimed much of the land in front of the school house. The lot became so small that there was talk of demolishing the school.
In 1973 the Shrewsbury Historical Society was able to save the school house by acquiring the building from the town. The building was in desperate need of repairs. Several fund raisers were held and restorative work was begun. The exterior work included new windows, a new wood shingled roof and exterior painting. Work to the interior included repairing of walls and painting. To complete the restoration, period desks and chairs were purchased. The original restoration was completed thirty years ago and the school house is once again in need of repair. At this time windows need reglazing, plaster work needs to be done and the interior and exterior need painting. A local restorative expert, Warren Lanpher, has been hired to complete these repairs. Once these repairs are complete the school house will once again be a beautifully preserved historic site.